Bathroom Remodeling Services In The Boston Area
Turn Your Bathroom Into The Perfect Place To Relax And Unwind
Delivering Bathroom Remodeling Services To Homeowners in Boston And The Surrounding Areas
Your bathroom is one of the most important rooms in your house. It's where you start and end your day, as well as the place where you relax, unwind, and escape the stresses of daily life.
If your bathroom is outdated, you probably aren't particularly excited when having to get ready for work — or for bed. Why settle for an unfunctional bathroom that doesn't reflect your personal style?
A bathroom remodel from River City Construction can transform your space into a haven that reflects your unique taste and personality. Plus, it can add value to your home and improve your quality of life.
Whether you're looking for a sleek and modern design or a cozy and traditional space, our team has the skill set to meet your needs and deliver the bathroom remodeling services you need to transform your bathroom! Get a quote today!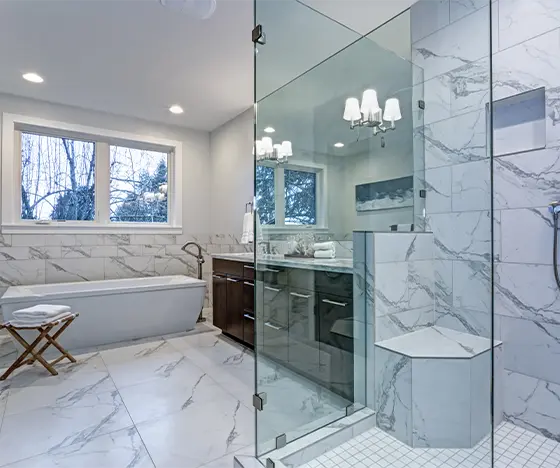 Common Upgrades for Bathroom Remodels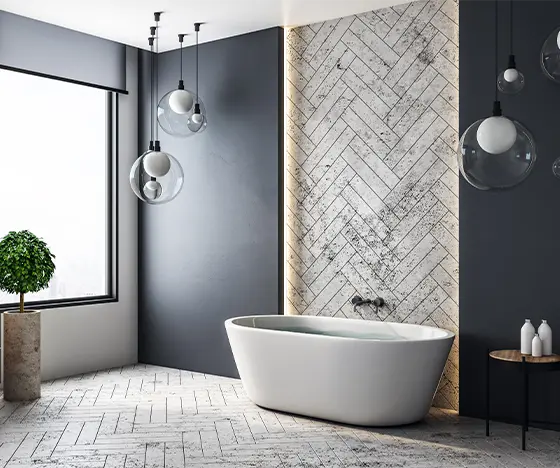 Your bathroom is often one of the busiest rooms in the house, and it can be easy to feel like you're stuck in a rut when getting ready every morning.
Added features can enhance the way you use your bathroom. Extra counter space will give you plenty of room to spread out your toiletries and get ready for the day. Additional storage will help to keep your bathroom organized and clutter-free. And strategic lighting will help you to see clearly while you're getting ready.
Don't let your bathroom add stress to your daily routine. Get the bathroom remodeling services you need to make starting or ending your day easier and more enjoyable!
Bathroom Remodeling Pricing
River City Construction is committed to making your remodeling dreams come to life while delivering an experience you're guaranteed to love.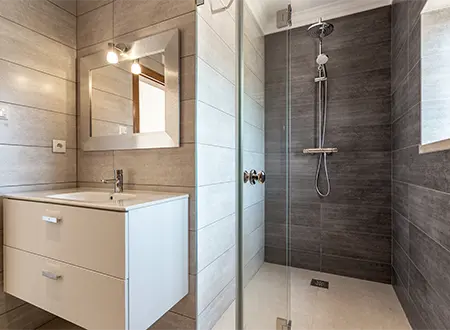 includes basic porcelain tile replacement, new flooring, new vanity, new toilet, and upgraded lighting. Also includes tub resurfacing with surrounding tile installation and new fanlight.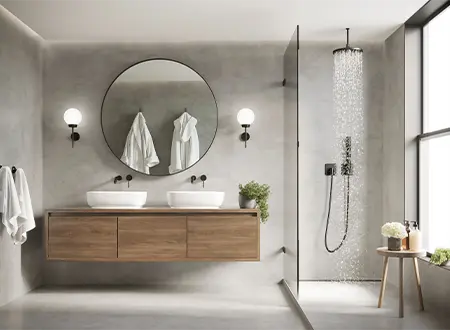 Upscale Bathroom Remodel*
Includes slight bathroom reconfiguration, replacement of tub with upgraded shower, and replacement of bathroom valve. Also includes basic porcelain tile replacement, new flooring, new vanity, new toilet, and upgraded lighting.
Universal Design Bathroom Remodel*
Reconfigure your bathroom to fit all your needs. Includes new floors, new shower, upgraded vanities, built in storage, heated floors, and new fixtures. Also includes upgraded lighting reconfiguration, new fanlight, and replacement of bathroom valve.
*Prices are averages and may change depending on the size of your bathroom and your choice of upgrades and materials. You'll receive an exact quote for your unique bathroom remodeling project after the in-house consultation.
3 Simple Steps Towards Your New Bathroom
Getting your home remodeled shouldn't have to be a stressful process. That's why we have crafted a process that makes upgrading your home not just seamless, but enjoyable as well. Step 1.
Fill Out Our Contact Form
We want to hear about your project! Fill out the contact form on our contact page so that we can learn more about your vision for your bathroom. Feel free to attach pictures so that we can start to visualize your ideas. Step 2.
We Work Our Remodeling Magic
Once we have decided on all the details, we will get to work in making your dreams for your bathroom come to life. We will keep you updated throughout the process and will be available to answer any questions you may have. Step 3.
Love Your Upgraded Bathroom
After we have completed your project and you are thrilled with the final result, we make sure to clean up so that as soon as we leave, you can start enjoying your new bathroom. Even though the project is done, we're still here to serve you!
Our aim is to deliver high-quality craftsmanship and an amazing experience to every homeowner we get to work with. Read some of our reviews from previous clients to get a better idea of what working with us will be like for you.
Your Bathroom Oasis Awaits