Kitchen Remodeling Services In The Boston Area
The Heart of Your Home Should Be Both Functional And Beautiful
Delivering Kitchen Remodeling Services To Homeowners in Boston And The Surrounding Areas
The kitchen is where we gather to cook, eat, and spend time with our loved ones. But all too often, kitchens are cramped and cluttered, making it difficult to enjoy these special moments.
With a kitchen remodel, you can change the way you and your family live in this integral space. By taking advantage of the kitchen remodeling services at River City Construction, you can start transforming your kitchen by adding storage, cabinetry, and a variety of other items to make this space more organized and functional.
Whether you're looking to add a new island or simply want to optimize your existing layout, a kitchen remodel can make your space more user-friendly and enjoyable.
We're here to help you create the perfect place for everything from Taco Tuesday, to cookie decorating during the holidays.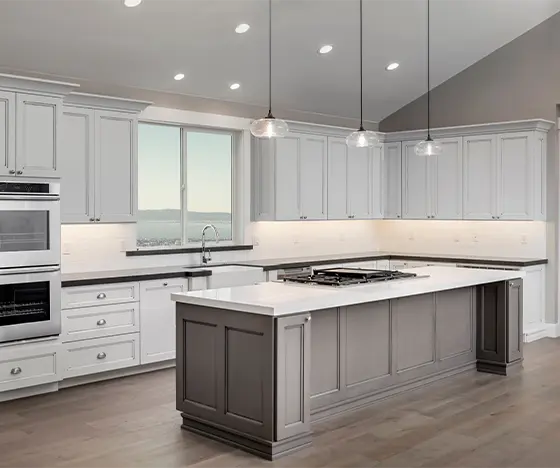 Common Upgrades For Kitchen Remodels
The perfect Place For Entertaining

---
If you love to entertain, then you need a kitchen that is inviting and spacious. With our kitchen remodeling services, you can create the perfect space with enough room to house all your guests comfortably.
You'll be able to add all the features that you need to make entertaining a breeze. From a spacious island for food prep to plenty of storage for all your serving ware, a remodeled kitchen will help you make the most of your hosting skills.
Take your ability to entertain to the next level with a new kitchen that will impress your guests and make entertaining a truly enjoyable experience.
Kitchen Remodeling Pricing
River City Construction is committed to making your remodeling dreams come to life while delivering an experience you're guaranteed to love.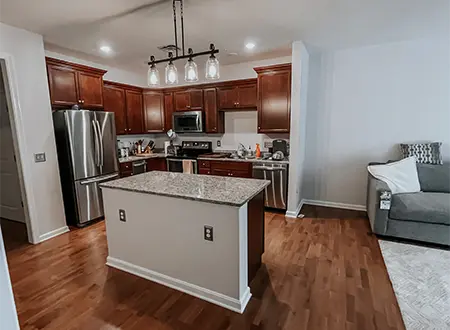 Includes new cabinetry, new countertops, and fresh paint. Also includes carpentry fixes and upgraded electrical and plumbing.
Includes semi custom cabinetry, upgraded stone countertops, new tile backsplash, and fresh paint. Also included electrical and plumbing upgrades, new flooring, and carpentry fixes.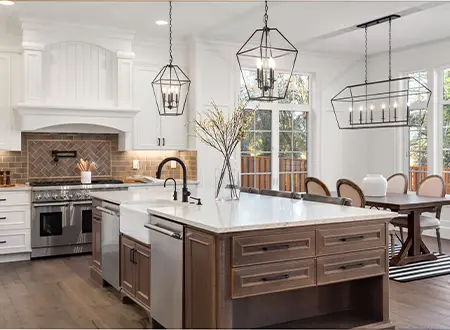 High-End Kitchen Remodel*
Includes full kitchen reconfiguration with semi custom/custom cabinetry, premium stone countertops, upgraded tile backsplash, and fresh paint. Also includes high end crown molding and under mount trim, electrical and plumbing upgrades, and a farmhouse sink.
*Prices are averages and may change depending on the size of your kitchen and your choice of upgrades and materials. You'll receive an exact quote for your unique kitchen remodeling project after the in-house consultation.

**Appliances not included.
3 Simple Steps Towards Your New Kitchen
Getting your home remodeled shouldn't have to be a stressful process. That's why we have crafted a process that makes upgrading your home not just seamless, but enjoyable as well. Step 1.
Fill Out Our Contact Form
We want to hear about your project! Fill out the contact form on our contact page so that we can learn more about your vision for your kitchen. Feel free to attach pictures so that we can start to visualize your ideas. Step 2.
We Work Our Remodeling Magic
Once we have decided on all the details, we will get to work in making your dreams for your kitchen come to life. We will keep you updated throughout the process and will be available to answer any questions you may have. Step 3.
Love Your Upgraded Kitchen
After we have completed your project and you are thrilled with the final result, we make sure to clean up so that as soon as we leave, you can start enjoying your new kitchen. Even though the project is done, we're still here to serve you!
Our aim is to deliver high-quality craftsmanship and an amazing experience to every homeowner we get to work with. Read some of our reviews from previous clients to get a better idea of what working with us will be like for you.
Your kitchen Deserves An upgrade